Fruits Rouges Strong 10 mg
VELO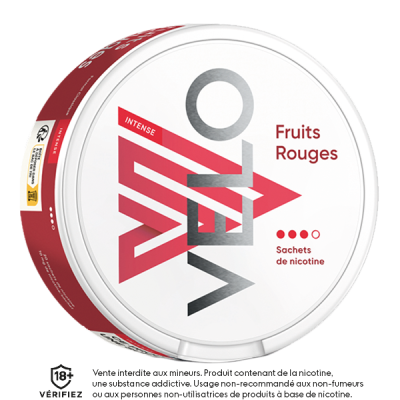 Sun-ripened strawberries, delicately tart, for a gourmet experience on any occasion. A beautiful combination of fruits of the forest for these Lyft Ruby Berry nicotine pouches in 5,6mg/pouches.
NB: In 2022 LYFT becomes VELO
Diffusion
Medium 30-45 min
LYFT Nicotine Pouches
LYFT Nicotine Pouches are the healthier, tobacco-free evolution of the EPOK brand of snus.
LYFT presents a range that is as fresh as possible, these nicotine pouches are pristine white and are designed so that they do not cause unwanted discoloration on the teeth.
LYFT made the decision to go completely tobacco-free for its nicotine pouches, recognizing that it's the nicotine, not the tobacco, that gives you the kick.
Lyft carries over its EPOK catalog and the same 6 tasty flavors: Mint, Ice Cool, Liquorice, Lime, Melon and Blueberry.
Thin pouches that deliver the flavors quickly and give a long-lasting taste experience.
Nicotine dosage and ingredients
Nicotine mg/pouch: 5,6mg
Pouch weight: 0,70g
Number of pouches: 21 pouches
Net weight: 14,7g
Nicotine mg/gram: 8mg
Ingredients: Water, additives (E460), flavor enhancers (saline), flavors, nicotine, xylitol, thickeners (E401), acidity regulators (E500), Salmiak salt, sweetener (E950).
Which dosage of nicotine to choose?
The dosage to use depends on your dependence to nicotine.
Check out our dedicated page to read our advice on how to choose your nicotine strength.
How to use nicotine pouches ?
Place a nicotine pouch under your lip. In contact with the gums, the flavors and nicotine diffuse for a period generally between 20 and 45 minutes. Then get rid of the used pouch by using the compartment provided for this purpose. For more information, see our complete guide to using nicotine pouches. You'll learn that nicopods can be used anywhere freely.

What is the difference between nicotine pouches and snus ?
Unlike snus, which they are inspired by, nicotine pouches do not contain tobacco. See this page to learn all about the differences between snus and nicotine pouches.

Precautions for use of nicotine pouches
Nicotine pouches are an effective alternative to cigarettes, they do not allow you to stop smoking but can help you. Discover here the many advantages of nicopods.
For optimal conservation, the cans of nicotine pouches must be closed after use and not be exposed to moisture. To consume in the week following the opening of the can, respecting the DDM indicated on the packaging.
Product forbidden to minors, pregnant women, people with cardiovascular problems, prone to hypertension, allergic to nicotine. Do not ingest. Do not leave within the reach of children and animals. In case of ingestion, consult a doctor immediately (112). In the interest of environmental protection and recycling, we would appreciate it if you would dispose of the empty cans in the appropriate bins/containers. Used pouches are not recyclable.
The nicotine contained in nicotine pouches is a highly addictive substance, its use is not recommended for non-smokers.
Romain C. published the 25/05/2023 following an order made on 17/05/2023
Pas encore testé
Nathalie B. published the 28/02/2023 following an order made on 23/02/2023
Excellent la commande correspond à ma commande
Romain C. published the 25/05/2023 following an order made on 17/05/2023
Pas encore testé
Nathalie B. published the 28/02/2023 following an order made on 23/02/2023
Excellent la commande correspond à ma commande