Pack GRANT X-Strong 11mg
GRANT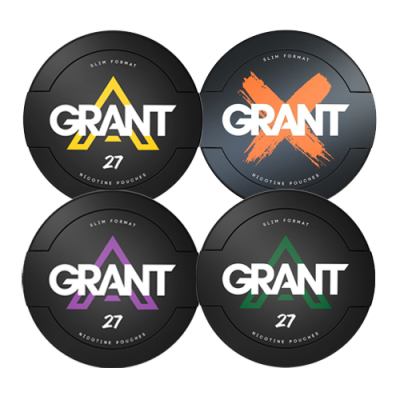 Vente interdite aux mineurs. La nicotine contenue dans ce produit crée une forte dépendance. Son utilisation par les non-fumeurs n'est pas recommandée. Voir les précautions d'utilisation dans la description.
Our selection of nicopouches Grant, the new reference of nicotine pouches. In these sober and elegant boxes, pouches of nicotine with very balanced flavors for a tasting under the sign of class!
Grant Wild Berry: A tasty cocktail of wild berries enhanced by a hint of menthol notes for a fruity and refreshing tasting!
Grant Melon: Fancy the fresh taste of summer melon with no added sugar? These nicopods GRANT Melon will transport you

Grant Orange : the sweetness of a juicy orange enhanced by a hint of bitterness in the end note

Grant Hemp: The unique flavor of hemp, the characteristic smell and taste are faithfully reproduced, without the effects of course!
Ce pack contient
This pack contains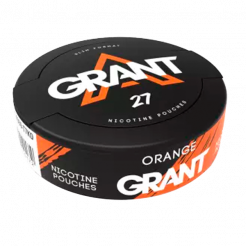 Orange X-Strong 11 mg
€3.58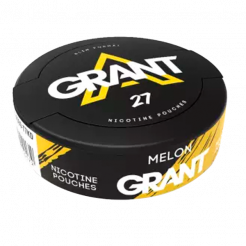 Melon X-Strong 11 mg
€3.05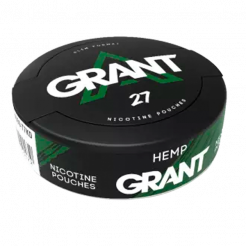 Hemp X-Strong 11 mg
€3.58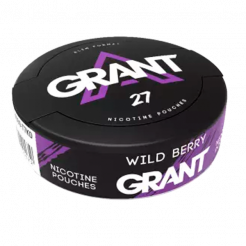 Wild Berry X-Strong 11 mg
€3.58
Rupture de stock
Let me know when the product is available again.
By purchasing this product
- Livraison en France métropolitaine en colissimo
Nicotine dosage and ingredients
Nicotine mg/pouch: 7,9mg
Pouch weight: 0,44g
Number of pouches: 27 
Net weight: 11,8g
Nicotine mg/gram: 18mg
Ingredients: Fibre, water, nicotine, flavour, erythritol, xylitol, flavourings, acidity regulators (E500), thickeners (E401), sweeteners (E950), salt solution, preservatives (E202).
Not recommended for minors, pregnant women, people with cardiovascular problems, people with high blood pressure, people allergic to nicotine. Do not ingest. Keep out of reach of children and pets. If swallowed, seek medical advice immediately (15 in France). In the interests of environmental protection and recycling, we would be grateful if you would dispose of empty cans in the appropriate bins/containers. Used pouches cannot be recycled.
The nicotine contained in nicotine pouches is a highly addictive substance, and its use is not recommended for non-smokers.
Anonymous customer published the 07/04/2021 following an order made on 02/04/2021
Très & même plus que satisfait de ma commande et achat effectué sur ce site. Produit efficace plus que je ne l'aurais cru. Sont mes prémices dans ce genre de produits, mais fait l'effet escompté 😀
Anonymous customer published the 07/04/2021 following an order made on 02/04/2021
Très & même plus que satisfait de ma commande et achat effectué sur ce site. Produit efficace plus que je ne l'aurais cru. Sont mes prémices dans ce genre de produits, mais fait l'effet escompté 😀