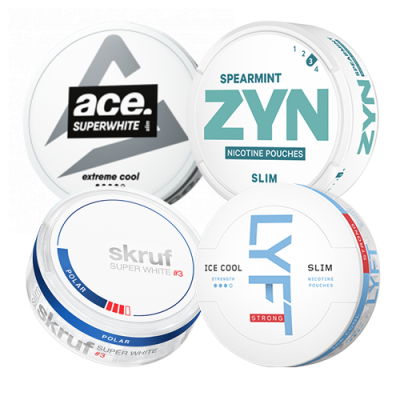 Strong nicotine pouches for a powerful nicotine kick. Fresh and minty flavors: Ace Extreme Cool, Skruf Polar, Lyft Urban Vibe and Zyn Northern Woods.

    - ACE Extreme Cool 10.4mg: Chilly epic to the top of the Scandinavian mountains. The power of peppermint to get you through the day.
    - LYFT Ice Cool Mint 9.8mg: The zest of peppermint and a flash of freshness.
    - ZYN Spearmint 9.6mg: Drop the temperatures with this spearmint - menthol blend
    - Skruf Polar 8.7mg: The essential freshness duo of menthol and eucalyptus for a chilling blend.
Quel taux de nicotine choisir ?
Le dosage à utiliser dépend de votre dépendance à la nicotine.
Rendez-vous sur notre page dédiée pour découvrir nos conseils pour bien choisir votre taux de nicotine.
Comment s'utilisent les Nicotine Pouches ?
Placez un sachet de nicotine sous votre lèvre. Au contact de la gencive, les arômes et la nicotine se diffusent pendant une durée généralement comprise entre 20 et 45 minutes. Débarrassez-vous alors
du sachet usagé en utilisant le compartiment prévu à cette effet. Pour plus de précisions, consultez notre guide complet d'utilisation des nicotine pouches. Vous y apprendrez que les nicopods peuvent être utilisés partout en toute liberté.

Quelle est la différence entre Nicotine Pouches et Snus ?

A la différence du snus dont ils sont inspirés sur la forme, les nicotine pouches ne contiennent pas de tabac. Consultez cette page pour tout savoir sur les différences entre le snus et sachets de nicotine .

Précautions d'utilisation des nicotine pouches

Les Nicotine Pouches représentent une alternative efficace à la cigarette, ils ne permettent pas d' arrêter de fumer mais peuvent vous y aider. Découvrez ici les nombreux avantages des nicopods .
Pour une conservation optimale, les boîtes de nicotine pouches doivent être refermées après usage et ne pas être exposées à l'humidité. A consommer dans la semaine suivant l'ouverture de la boîte en respectant la DDM indiquée sur l'emballage.

Produit interdit aux mineurs, femmes enceintes, personnes ayant des problèmes cardiovasculaires, sujettes à l'hypertension, allergiques à la nicotine. Ne pas ingérer. Ne pas laisser à la portée des enfants et des animaux. En cas d'ingestion, consulter immédiatement un médecin (15). Dans un souci de respect de l'environnement et de recyclage, nous vous serions reconnaissants de jeter les boîtes vides dans les poubelles/conteneurs appropriés. Les sachets usagés ne sont pas recyclables.
La nicotine contenue dans les nicotine pouches est une substance hautement addictive, son utilisation est déconseillée aux non-fumeurs.