Ace Pack Strong & Fresh 10,4 mg
ACE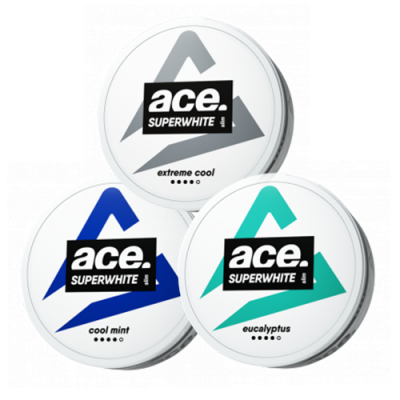 Vente interdite aux mineurs. La nicotine contenue dans ce produit crée une forte dépendance. Son utilisation par les non-fumeurs n'est pas recommandée. Voir les précautions d'utilisation dans la description.
Nicopods with fresh and intense flavors with this Ace Superwhite Discovery Mix Pack. Cool Mint, Eucalyptus and Extreme Cool, a Strong kick at 10.4mg of nicotine per pouch, ideal to help you quit smoking!
Cool Mint: The freshness of a duo fresh mint-peppermint bold and provocative. An Extra Strong kick for thrill seekers. The assurance of a powerful experience
Eucalyptus: The freshness of menthol and eucalyptus notes. To be enjoyed without moderation, wherever and whenever you want, and always without tobacco!
Extreme Cool : Icy epic at the top of the Scandinavian mountains. The power of peppermint for a kick Extra Strong that accompanies you throughout the day.
Nicotine mg/pouch
10.4 mg
Nicotine mg/gramme
16 mg/g
Diffusion
Medium 30-45 min
Nicotine dosage and ingredients
Nicotine mg/pouch: 10,4mg
Pouch weight: 0,65g
Number of pouches: 20
Net weight: 13g
Nicotine mg/gram: 16mg
Ingredients: Fibre, water, nicotine, flavour, erythritol, xylitol, flavourings, acidity regulators (E500), thickeners (E401), sweeteners (E950), salt solution, preservatives (E202).
Not recommended for minors, pregnant women, people with cardiovascular problems, people with high blood pressure, people allergic to nicotine. Do not ingest. Keep out of reach of children and pets. If swallowed, seek medical advice immediately (15 in France). In the interests of environmental protection and recycling, we would be grateful if you would dispose of empty cans in the appropriate bins/containers. Used pouches cannot be recycled.
The nicotine contained in nicotine pouches is a highly addictive substance, and its use is not recommended for non-smokers.