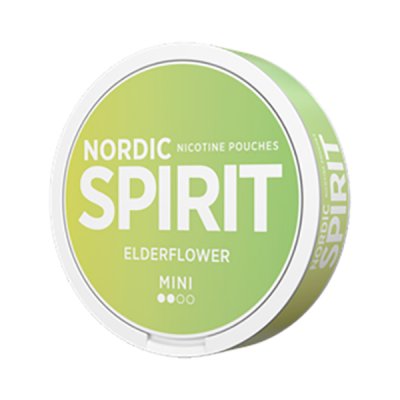 Flavor
Elderberry, Citrus
Nicotine mg/gramme
8,6 mg/g
The traditional flavors of Sweden, finally available in Mini format. The natural acidity of elderberry enhanced by citrus notes for a timeless, sought-after union. Nordic Spirit Mini Elederflower, a must-try!
Get 30% off on this reference.
Short DDM : 03-06-2021
Rupture de stock
Let me know when the product is available again.
By purchasing this product
- Livraison en France métropolitaine en colissimo
Volume discounts
| Quantity | Unit discount | You Save |
| --- | --- | --- |
| 25 | 2.5% | Up to €2.76 |
| 50 | 5% | Up to €11.04 |
| 75 | 7.5% | Up to €24.84 |
| 100 | 10% | Up to €44.17 |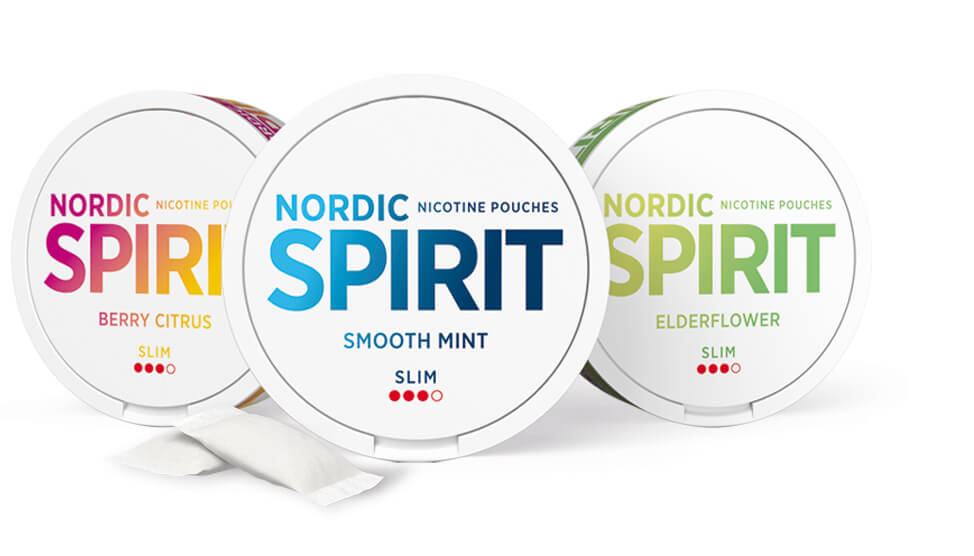 NORDIC SPIRIT
Nordic Spirit nicotine pouches offer a 100% tobacco-free nicotine experience.

Made from a blend of plant fibres, flavourings, nicotine and a small amount of gum base, each pouch fits perfectly and discreetly under your upper or lower lip. Laugh, talk and even sing along, while enjoying a steady supply of nicotine that can last up to an hour. Each box contains 20 pouches of nicotine.
Nicotine dosage and ingredients
Nicotine mg/pouch: 3mg
Pouch weight: 0,35g
Number of pouches: 20 pouches
Net weight: 7g
Nicotine mg/gram: 8,6mg
Ingredients: Additives (E965, E460), chewing gum base, nicotine, acidity regulator (500), flavourings, humectant (E422,E1520).
Which dosage of nicotine to choose?
The dosage to use depends on your dependence to nicotine.
Check out our dedicated page to read our advice on how to choose your nicotine strength.
How to use nicotine pouches ?
Place a nicotine pouch under your lip. In contact with the gums, the flavors and nicotine diffuse for a period generally between 20 and 45 minutes. Then get rid of the used pouch by using the compartment provided for this purpose. For more information, see our complete guide to using nicotine pouches. You'll learn that nicopods can be used anywhere freely.

What is the difference between nicotine pouches and snus ?
Unlike snus, which they are inspired by, nicotine pouches do not contain tobacco. See this page to learn all about the differences between snus and nicotine pouches.

Precautions for use of nicotine pouches
Nicotine pouches are an effective alternative to cigarettes, they do not allow you to stop smoking but can help you. Discover here the many advantages of nicopods.
For optimal conservation, the cans of nicotine pouches must be closed after use and not be exposed to moisture. To consume in the week following the opening of the can, respecting the DDM indicated on the packaging.
Product forbidden to minors, pregnant women, people with cardiovascular problems, prone to hypertension, allergic to nicotine. Do not ingest. Do not leave within the reach of children and animals. In case of ingestion, consult a doctor immediately (112). In the interest of environmental protection and recycling, we would appreciate it if you would dispose of the empty cans in the appropriate bins/containers. Used pouches are not recyclable.
The nicotine contained in nicotine pouches is a highly addictive substance, its use is not recommended for non-smokers.