Ice Blueberry X-Strong 13 mg
BIT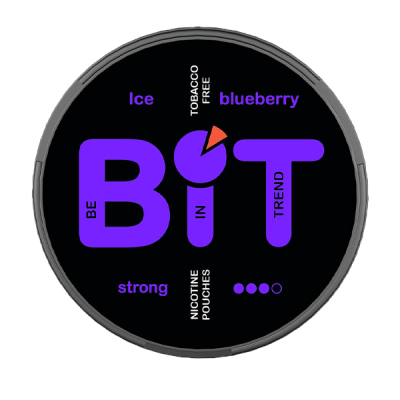 Vente interdite aux mineurs. La nicotine contenue dans ce produit crée une forte dépendance. Son utilisation par les non-fumeurs n'est pas recommandée. Voir les précautions d'utilisation dans la description.
Fresh or fruity? Why make a choice when you can have both! BIT Ice Blueberry X-Strong nicotine pouches promise you the sweetness of blueberry while waking your taste buds with a blizzard of extra fresh mint.
Nicotine mg/gramme
20 mg/g
Diffusion
Medium 30-45 min
PRIX DÉGRESSIF EN FONCTION DES QUANTITÉS
| Quantity | Unit discount | Unit price |
| --- | --- | --- |
| 10 | 1,23% | 3 € |
| 25 | 2,47% | 2,97 € |
| 50 | 4,66% | 2,9 € |
| 100 | 9,04% | 2,77 € |
By purchasing this product
- Livraison en France métropolitaine en colissimo
Nicotine dosage and ingredients
Nicotine mg/pouch: 13mg
Pouch weight: 0,65g
Number of pouches: 20 sachets
Net weight: 13g
Nicotine mg/gram: 20mg
Ingredients: filler (E460), sodium carbonate (E500), erithritol (E968), potassium sorbate (E202), water, propylene glicol (E1520), sodium alginate (E401)
Not recommended for minors, pregnant women, people with cardiovascular problems, people with high blood pressure, people allergic to nicotine. Do not ingest. Keep out of reach of children and pets. If swallowed, seek medical advice immediately (15 in France). In the interests of environmental protection and recycling, we would be grateful if you would dispose of empty cans in the appropriate bins/containers. Used pouches cannot be recycled.
The nicotine contained in nicotine pouches is a highly addictive substance, and its use is not recommended for non-smokers.