Original Compact Energy
KICKUP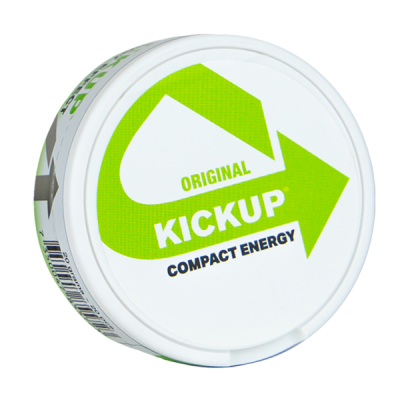 Vente interdite aux mineurs. La nicotine contenue dans ce produit crée une forte dépendance. Son utilisation par les non-fumeurs n'est pas recommandée. Voir les précautions d'utilisation dans la description.
10 vitamins, 3 minerals, these pouches without sugar, nicotine or tobacco also contain guarana and ginseng, enough to boost you with a little salty taste.
Subtle marriage of bergamot and liquorice.
A Large format for an extra-long-lasting energy boost!
Flavor
Orange, Bergamot, Licorice
Diffusion
lengthy 40-60 min

KICKUP Energie en sachet !

Déclaration de contenu:
Ingredients: eau, thé, Bio X20 (inuline, magnésium, niacine, zinc, vitamine E (antioxydant), acide pantothénique, B6, riboflavine, thiamine, sélénium, acide folique, biotine (antioxydant), B12, régulateur d'acidité (bicarbonate de sodium), chlorure de sodium, arômes (dont arôme de fumée), dextrine de maïs, fibres de cacao, alginate de sodium, conservateur (sorbate de potassium), extrait de pollen, guarana (source de caféine), xylitol, ginseng, vitamine C.
Valeurs nutritionnelles pour 100 g: <2 kJ (<1 kcal), 0 g de protéines, moins de 1 g de glucides, 0 g de lipides, dont 0 g de graisses saturées, 0 g de fibres, 1,1 g de sodium.    Minéraux: magnésium 1000 mg (266%), zinc 50 mg (500%), sélénium 125 μg (227%)
Caféine: 870 mg (provenant du thé), 315 mg (provenant du guarana)
Apport journalier recommandé, valeur nutritionnelle par sachet individuel : environ 1 % des valeurs déclarées. L'apport réel en vitamines et minéraux dépend de vos habitudes de consommation. Dose journalière recommandée : ~20pcs
Kickup est du snus sans tabac et sans nicotine conçu pour vous donner de l'énergie à chaque utilisation. Ginseng, Guarana, Vitamines, Minéraux ...

Kickup propose deux sortes de sachets: Secs et Humides.
Kickup est principalement fabriqué à partir de feuilles de thé, auxquelles sont ajoutés des vitamines, des minéraux, du ginseng et du guarana.
Kickup utilise uniquement des ingrédients 100% naturels,lLe principal avantage est que l'effet dure beaucoup plus longtemps que des produits chimiques ou d'autres substances artificielles.
Le premier ingrédient est BIOX20, qui contient dix vitamines et trois minéraux. Cette substance a de nombreux avantages et effets positifs sur le corps. Les ingrédients de BIOX20 fournissent une meilleure énergie qui dure plus longtemps. Les sachets buccaux Kickup contiennent également des antioxydants ainsi que d'autres oligo-éléments. Ces substances aident à protéger les cellules du corps.
Enfin, Kickup contient également du guarana et du ginseng qui sont tous deux bien connus pour leurs propriétés stimulantes.


Le guarana contient de la caféine et à partir de là, Kickup obtient sa teneur en caféine. Cet ingrédient naturel est une plante originaire du Brésil. Il a été utilisé pendant des milliers d'années par les peuples autochtones à des fins médicales. On pense qu'il a une variété d'effets bénéfiques, tels que l'aide à la combustion des graisses, la prévention des maladies, la stimulation du cerveau, l'augmentation des performances et bien plus encore. Cet effet à court terme du guarana est dû à la teneur élevée en caféine et en tanin. Le guarana contient 5% de caféine tandis que par ex. les grains de café ne contiennent que 2% de caféine.
Les sachets buccaux fournissent une énergie accrue sans les effets négatifs de la nicotine mais donnent la même sensation car ils sont consommés de la même manière que les nicotines pouches.


L'objectif principal de Kickup est de donner plus d'énergie aux gens. Les coussins gonflables sont conçus pour réduire la fatigue et la léthargie, vous aider à rester éveillé et vous donner plus d'énergie et stimuler les fonctions cérébrales. Kickup veut aider les gens à vivre une vie saine en créant une option plus saine en matière de sachets buccaux.
Comment s'utilisent les sachets Kickup ?
Placez le sachet sous votre lèvre supérieure afin que celui-ci délivre ses effets et arômes.

Une fois la dissolution complète des produits actifs, placez le sachet usagé sous le petit capot situé sur le dessus de la boite, Kickup à pourvu un réceptacle prévu à cet effet.
Précautions à prendre avec les sachets Kickup

La caféine est généralement déconseillée aux personnes qui souffrent de maladie cardiaque, d'insomnie, de troubles anxieux, d'ulcères gastriques ou duodénaux ou d'hypertension artérielle.
On ne dispose pas de suffisamment de données pour conclure à l'innocuité du guarana chez les enfants et chez les femmes enceintes ou qui allaitent.
Déconseillé aux:

mineurs,
personnes allergiques à la nicotine,
femmes enceintes,
personnes ayant des problèmes cardiovasculaires,
personnes sujettes à l'hypertension.

Conservation des sachets Kickup :
Afin de conserver le goût et l'efficacité de vos Kickup de façon optimale, il est conseillé de bien refermer la boite après chaque utilisation et de consommer dans la semaine suivant l'ouverture tout en évitant de  les exposer à l'humidité.
Nous vous conseillons également de conserver les sachets hors de portée des enfants et des animaux.
Contenu et ingrédients:
Poids du sachet: 1g
Contenu: 20 sachets
Poids net des sachets: 20g
Ingrédients: voir ci-dessous la déclaration de contenant