Lemon Berry Strong 9 mg
ICE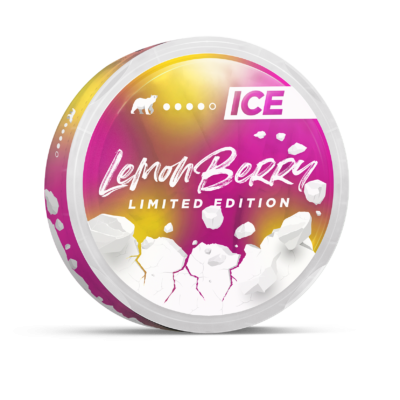 Vente interdite aux mineurs. La nicotine contenue dans ce produit crée une forte dépendance. Son utilisation par les non-fumeurs n'est pas recommandée. Voir les précautions d'utilisation dans la description.
Ice Lemon Berry nicopods: a cocktail of lemon and wild berries! A fruity association, to discover in Slim format, in Strong strength
Flavor
Lemon, Forest fruits
Nicotine mg/gramme
18 mg/g
Diffusion
Medium 30-45 min
Nicotine dosage and ingredients
Nicotine mg/pouch: 9mg
Pouch weight: 0,50g
Number of pouches: 20 sachets
Net weight: 10g
Nicotine mg/gram: 18mg
Ingredients: FILLERS (E460), SALT, XYLITOL (E96), ACIDITY REGLULARTOR (E501), NICOTINE, FLAVOURINGS, EMULSIFIER (E1520), PRESERVATIVE ()E211, GELLING AGENT (E415)
Not recommended for minors, pregnant women, people with cardiovascular problems, people with high blood pressure, people allergic to nicotine. Do not ingest. Keep out of reach of children and pets. If swallowed, seek medical advice immediately (15 in France). In the interests of environmental protection and recycling, we would be grateful if you would dispose of empty cans in the appropriate bins/containers. Used pouches cannot be recycled.
The nicotine contained in nicotine pouches is a highly addictive substance, and its use is not recommended for non-smokers.