The Super Slim nicopods are even thinner than the Slim pouches. They guarantee a great comfort of use and discretion in all circumstances. The Super Slim snus are the ideal partner for your travels. They release nicotine and aromas in an optimal way.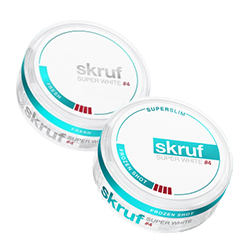 SKRUF
Nicotine pouches with polar flavors. Frozen Mint and Fresh Mint by Skruf. 11.9mg of nicotine per...
SKRUF
Extreme freshness and Extra Strong pleasure, with the Skruf Frozen Mint (ex Skruf Frozen Shot)...